"Concentrate on what you record while you record.
Handle everything else in postproduction."
Tip: Delegate the postproduction to an employee who is good at that. And don't bother your creative experts with technical stuff such as compression settings, video file formats and so on.
Key-features:
Integrated Sound Recording from microphone (which is synchronized with the screen video.)
Lossless Master format - Compression and scaling as a postproduction step.
Supports multiple video formats in postproduction.
Can also record OpenGL 3D animations.
---
All trademarks belong to their respective owners. We indicate some trademarks used in this text but lack of such an indication does not mean that a name is free to use.
Without guarantee, we list the owners of some trademarks as known to us:
DemoRecorder® is a registered (supplemental index) US trademark of Christian Linhart.
Linux® is a registered trademark of Linus Torvalds.
Macromedia® and Macromedia Flash® are registered trademarks of Macromedia Inc.
SnagIt®, Camtasia® and Techsmith® are registered trademarks of TechSmith Corporation.

---
Tutorial | Features | Download | Get Free Trial | Buy | Support
---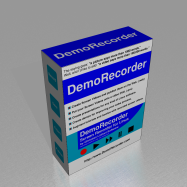 Imagine ...
You explain something and ...
...
everybody understands you.
Your wish is granted...
... with DemoRecorder.